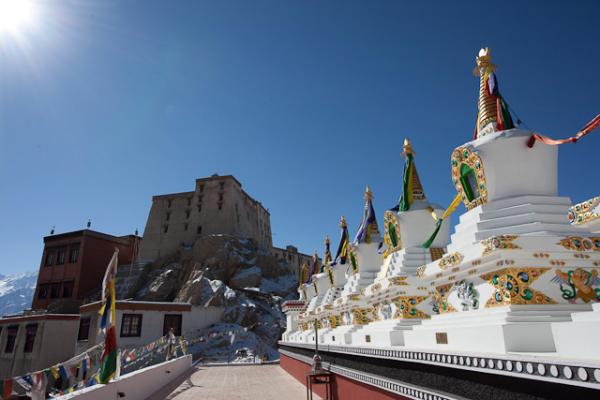 It is located near about ten kilometers up from Chemre in the Chemre Valley. The meaning of tak thok is rock hood and it refers to cave chapel found in gompas. The lamas of this monastery belongs from Tibet and they are highly respectable personalities among the Ladakhis. It means the ladakhis pay huge respect to them.

The monastery is a house of 55 lamas of the Nying-ma-pa sect of Buddhism famously known as "Old Order". The members of this sects are highly inspired by the Padme Sambhava's teachings and Tak thok is the only gompa which preaches this order. Entering the main courtyard, one is immediately struck by the rock outcroppings that surround the gompa. Indeed, the wooden front of the chapel is only a front for the cave behind it and most of the gompa consists of rooms hollowed out of the stone cliff either by nature or man. The cave chapel is to the left as one enters the central courtyard. A small anteroom to the cave chapel has been recently painted with the Guardian Divinities of the Four Directions. In the front of the cave chapel are images of Padme Sambhava and Avalokitesvara (analogous to the Hindu god Shiva and easily recognizable by his eleven heads and 1,000 arms). Behind this image is a small locked door leading to the small cave where Padme Sambhava is supposed to have lived and meditated for three years. This cave is not open to the public.

Ladakh has an ample of monasteries including Phyang Gompa, Sankar Gompa, Spitok Gompa, Stok Gompa, Stokna Gompa, Thiksey Monastery Matho Gompa, Likir Monastery and so on .
One of the similar quality of all these monasteries is that they are perfect place to regain the peace of your mind as their surroundings is so calm and peaceful.



" />
Tak Thok Gompa
It is located near about ten kilometers up from Chemre in the Chemre Valley. The meaning of tak thok is rock hood and it refers to cave chapel found in gompas. The lamas of this monastery belongs from Tibet and they are highly respectable personalities among the Ladakhis. It means the ladakhis pay huge respect to them.
The monastery is a house of 55 lamas of the Nying-ma-pa sect of Buddhism famously known as "Old Order". The members of this sects are highly inspired by the Padme Sambhava's teachings and Tak thok is the only gompa which preaches this order. Entering the main courtyard, one is immediately struck by the rock outcroppings that surround the gompa. Indeed, the wooden front of the chapel is only a front for the cave behind it and most of the gompa consists of rooms hollowed out of the stone cliff either by nature or man. The cave chapel is to the left as one enters the central courtyard. A small anteroom to the cave chapel has been recently painted with the Guardian Divinities of the Four Directions. In the front of the cave chapel are images of Padme Sambhava and Avalokitesvara (analogous to the Hindu god Shiva and easily recognizable by his eleven heads and 1,000 arms). Behind this image is a small locked door leading to the small cave where Padme Sambhava is supposed to have lived and meditated for three years. This cave is not open to the public.

Ladakh has an ample of monasteries including Phyang Gompa, Sankar Gompa, Spitok Gompa, Stok Gompa, Stokna Gompa, Thiksey Monastery Matho Gompa, Likir Monastery and so on .
One of the similar quality of all these monasteries is that they are perfect place to regain the peace of your mind as their surroundings is so calm and peaceful.